Connecting families with In Home Care Service Providers for their education and care needs
eligibility criteria applicable
In Home Care (IHC) is an approved [education and care education] for children in the family home created under the Australian Government's new child care package that commenced 2nd July 2018. IHC supports families' workforce participation and early childhood education and care requirements.
Families unable to access Centre-Based Long Day Care, Family Day Care and Outside School Hours Care because of their unique circumstances may be able to access education and care provided in the family home through IHC to support their workforce participation.
IHC is designed to support the provision of early childhood education and care in the home particularly for families:
working non-standard or variable hours
geographically isolated from other approved child care services, or
those with complex and challenging needs but not to subsidise medical, health, or disability care support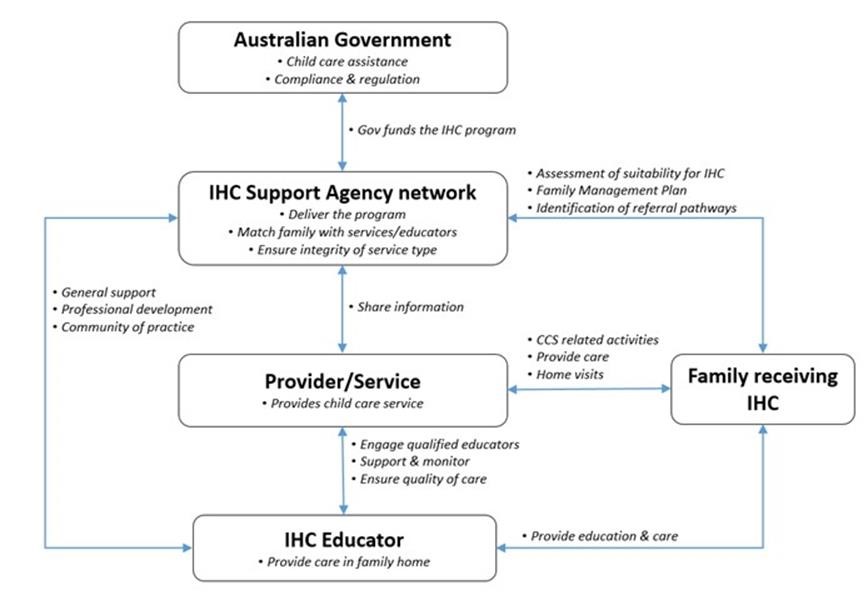 Australian Government's Child Care Subsidy
Child Care Subsidy is the main payment to assist families with the costs of child care. The Child Care Subsidy is paid directly to In Home Care service providers to reduce the cost to families of having an educator in the home. The amount of Child Care Subsidy is determined by the family's income. Families make a co-contribution to their child care fees and pay the provider the difference between the fee charged and the subsidy amount.
Additional Child Care Subsidy – July 2018
The Additional Child Care Subsidy is a top up payment in addition to the Child Care Subsidy (refer table below).
| | |
| --- | --- |
| Extra support for | Additional subsidy |
| Children at risk of serious abuse or neglect; grandparent primary carers on income support; families experiencing temporary financial hardship | A subsidy equal to 100 per cent of the actual fee charged (up to 120 per cent of the hourly rate cap), up to 100 hours of assistance per fortnight |
| Parents transitioning to work from income support | A subsidy equal to 95 per cent of the actual fee charged (up to 95 per cent of the hourly rate cap), hours of assistance determined by the activity test |
IHC Support Agency Tasmania
The In Home Care program is funded by the Australian Government, Department of Education.